Clients & Past Projects
CLIENTS & PAST PROJECTS
Join the growing list of clients who have used Ice Theatre of New York® to make their events and projects successful:
206 Events
Aerial Ice
Al Tayer Group
America's Got Talent
An Epic Company
Andrew Marc
Barbara Esses Events
Barney's
Bloomingdale's International
Briggs Inc.
Bryant Park Events
Canadian Tourism
CBS
Central Park Conservancy
Chase Inside Access
Chezzam Event Group
Chlidren's Specialized Hospital Foundation
Cingular
Cirque du Soleil
Citi Bank
Club Grenoble Isere Metropole Patinage
Coastal Development
Computer Associates
Connections Unlimited
Convent of the Sacred Heart
Daily Show with Trevor Noah
David Peyser Sportswear (Weatherproof)
Deafness Research Foundation
Debevoise Plimpton
DIFFA
Dollywood
Elise Overland
Entertainment Partners
Event Design Inc.
Food Allergy Initiative
Fox Family Channel
Free Country
Goldman Sachs
Goldwell
Governor's Island Preservation & Education Corp.
H C Wainwright
The Hewitt School
The Howard Hughes Foundation
H C Wainwright
Home Box Office
Iced Pink
Ice Rink Events NYC
IDA/Bryant Park Market Events
The Impression Group South
Karlitz & Company
Lead Dog Marketing
Lincoln Mercury
Marie Zimmerman Center for the Arts
Marina Del Rey
McKinsey & Company
Merrill Lynch
Merv Griffin Productions
Microsoft
The Milford Theater
Moncler
Museum of Natural History
Nancy Sloane Alchek Events
Navesink Country Club
NBC Universal
NBC - Today Show
Nemacolin
New Jersey Skating Foundation
Newport Ice Rink
New York City Parks Department
New York University
NFL
The Ninth State Movement Complex, LLC.
NYC Theatrical Events LLC
Paine Webber
Patina Restaurant Group
Peter Cooper Village
Prescriptives
PolyGlide Ice
Puddle Duck Pond
Raglin Associates
RD Management Corp.
Red Carpet Events
Redwood Empire Ice Operations
Related Companies
The Rink at Rockefeller Center
Rink Management Services Inc.
Riverbank State Park
Quebec Government (Montreal Fashions on Ice)
Saks Fifth Avenue
Sean John Clothing
Shackman Associates Int'l.
Showtime
Skate for the Goal
The Skating Club of Boston
Sony
St. Bernard School
ST Owner
Steffan Group
Southwest Airlines
Summit Productions, Inc.
Swarovski
System Air
Temple Emanu-El
The Standard Hotel
The Surf Club
Tishman Speyer
Tommy Hilfiger
Town Toyota Center
UBS
Unique Entertainment
Van Wyck & Van Wyck
Variety Interglobal LLC
Viacom
Vitech
VMAN
Weatherproof: Fashion Show 06 - Fashion Party 08
Wachovia
White & Case
Z-100
MOTION PICTURES
Batman: The Movie
The Elf
Polar Express
The Preacher's Wife
Sense 8
To Die For
ADVERTISING
Acura
Best Buy
Capezio Dance Makers
Home Savings Bank of America (television commercial)
Noni Juice
Southwest Airlines
The Food Network
Yellow Pages
TELEVISION
A&E "Winter Solstice on Ice"
CBS "Instinct"
Legends of Ladies Figure Skating, NBC
NBC, The Tonight Show with Jimmy Fallon
Samantha Bee's Christmas Special "I.C.E."
Voom TV "Colors of Winter"
PAST HIGHLIGHTS
2022 Philip Glass on his 85th Birthday - Rockefeller Center
2021 75th Anniversary Celebration of Chanel No5 - Rockefeller Center
2021 Nemacolin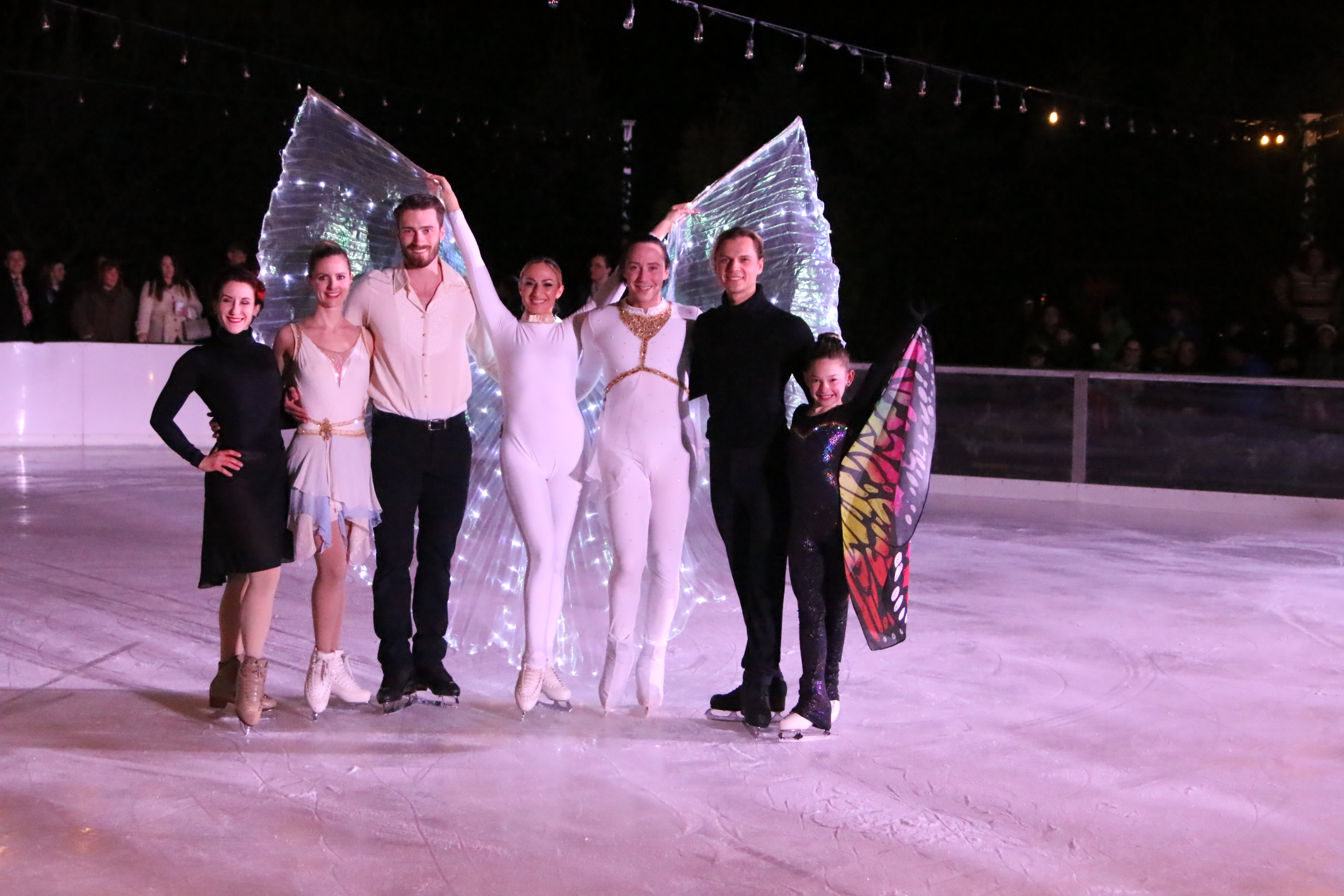 2021 Debevoise
2020 New Years Eve - Rockefeller Center
2019 Dancing Santa
2012 Moncler Fashion Show on Ice
Ice Theatre of NY does casting and helps choreograph the Moncler show during Fashion Week in New York City.
2011 Improv Everywhere

On January 21, 2011 Ice Theatre collaborated with Improv Everywhere.
Kenny Moir skated In a Nutshell, choreographed by Rob McBrien, during a zamboni break at a public session at Citi Pond at Bryant Park.
As the crowd cleared the ice for the zamboni, Kenny feigned the skating jitters, nervously clutching to the boards, unable it seemed, to make his way to the exit. The rest is sheer magic as Kenny transformed from fearful first-timer to skating pro right before the eyes of unsuspecting onlookers.
So far, the video has reached over 3,600,000 hits!
2011 Elise Øverland Fashion Show

As part of Fashion Week, Ice Theatre modeled fashions by Elise Øverland in a unique setting for her latest designs: the rink at the Standard Hotel. A quote in the WJD describes Øverland's impulse for combining fashion with skating, 'When Ms. Øverland was planning for fashion week, she was bored by the traditional runway show and wanted to do something different. "It was a total organic idea," she said after the show Saturday. "I came back in January and I had no idea where I was going to do my show… And then I saw the ice rink, and one thing led to the other."' The show generated a lot of buzz in the fashion world and was heartily received by audiences. Here are a couple press links, some of which include pictures of Ice Theatre of New York skaters:
2010 Launch of Holiday Photos on the Fly
Ice Theatre performed "Hot Chocolate" for the launch of Holiday Photos on the Fly, promoted by Southwest Airlines and Microsoft, at Bryant Park on November 23, 2010.