2020-2021 Season Review
2020-2021 Season Review
Links:
Trading the Ice for New York City Pavement by Dance Critic Gia Kourlas
NY Times - September 11, 2020
Programs for the City Skate Concerts - needs link to PDF
Year-end report for FY21
Our first possible live performance was for the opening of The Rink at Rockefeller Center on November 21 and 22, from 5:00PM to 9:00 PM. ITNY provided two masked female ice dancers for pop-up interactive performances within the context of public skating sessions. Our dancers wore full-length white unitards with large LED-lighted wings, looking like angels bringing some light to these dark times. Rink managers at Tishman Speyer reviewed the performances as "extremely beautiful, touching, and well received." Attendance 1000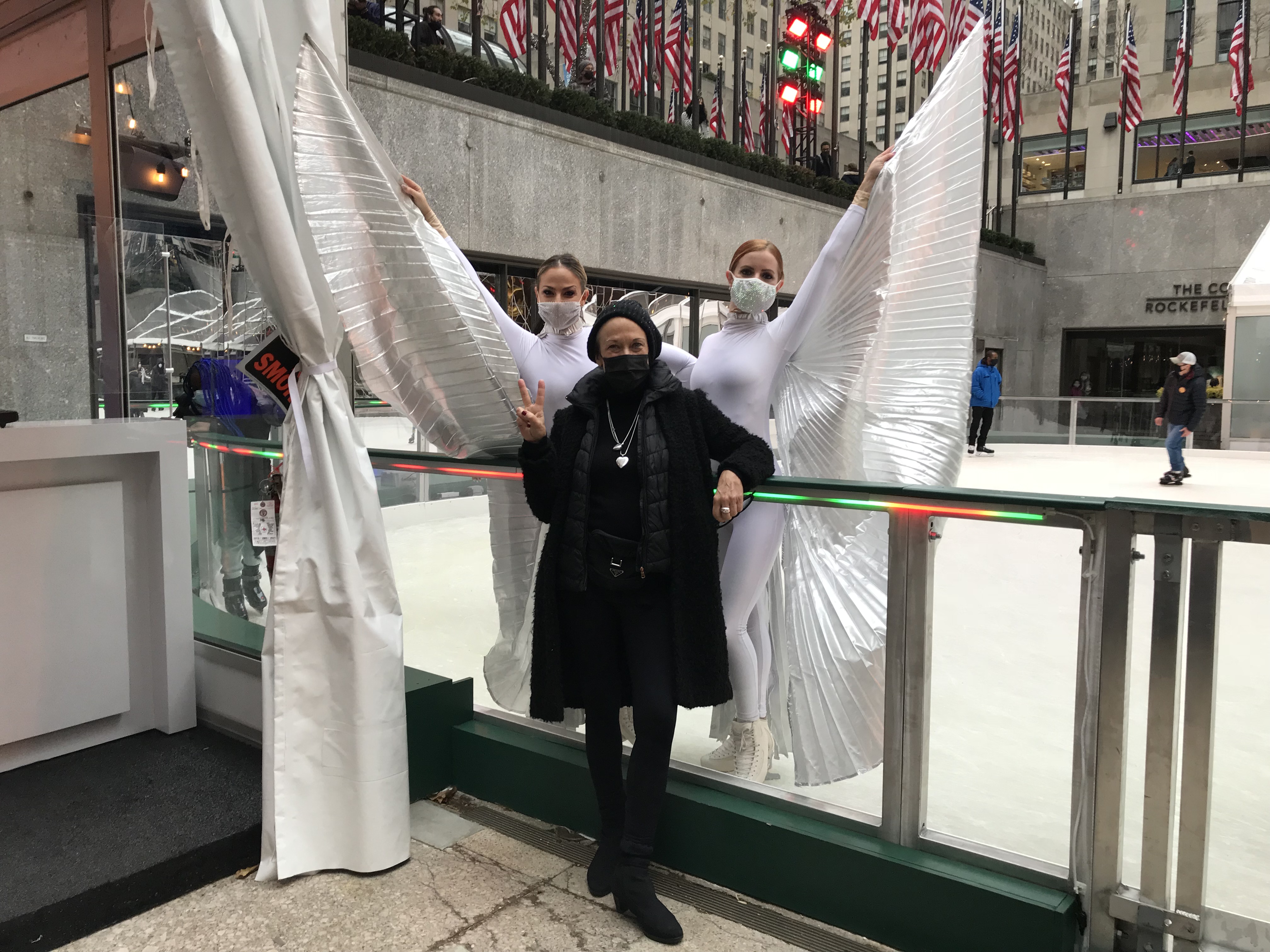 Between Nov. 27 and Dec. 24, 2020, ITNY provided a skating Santa character at Rockefeller Center, from 1:00 PM to 5:00 PM, for 17 days. Santa was interactive while trying to stay socially distanced from the public. Santa also wore a red mask. Attendance 8500
On New Year's Eve at Rockefeller Center with a roaring-20s theme and music, ITNY provided three ice dancers, Val Levine, Jessica Huot and Aaron Singeltary dressed in Great Gatsby costumes. This was another pop-up performance from 5:00PM to 9:00 PM. Attendance 1000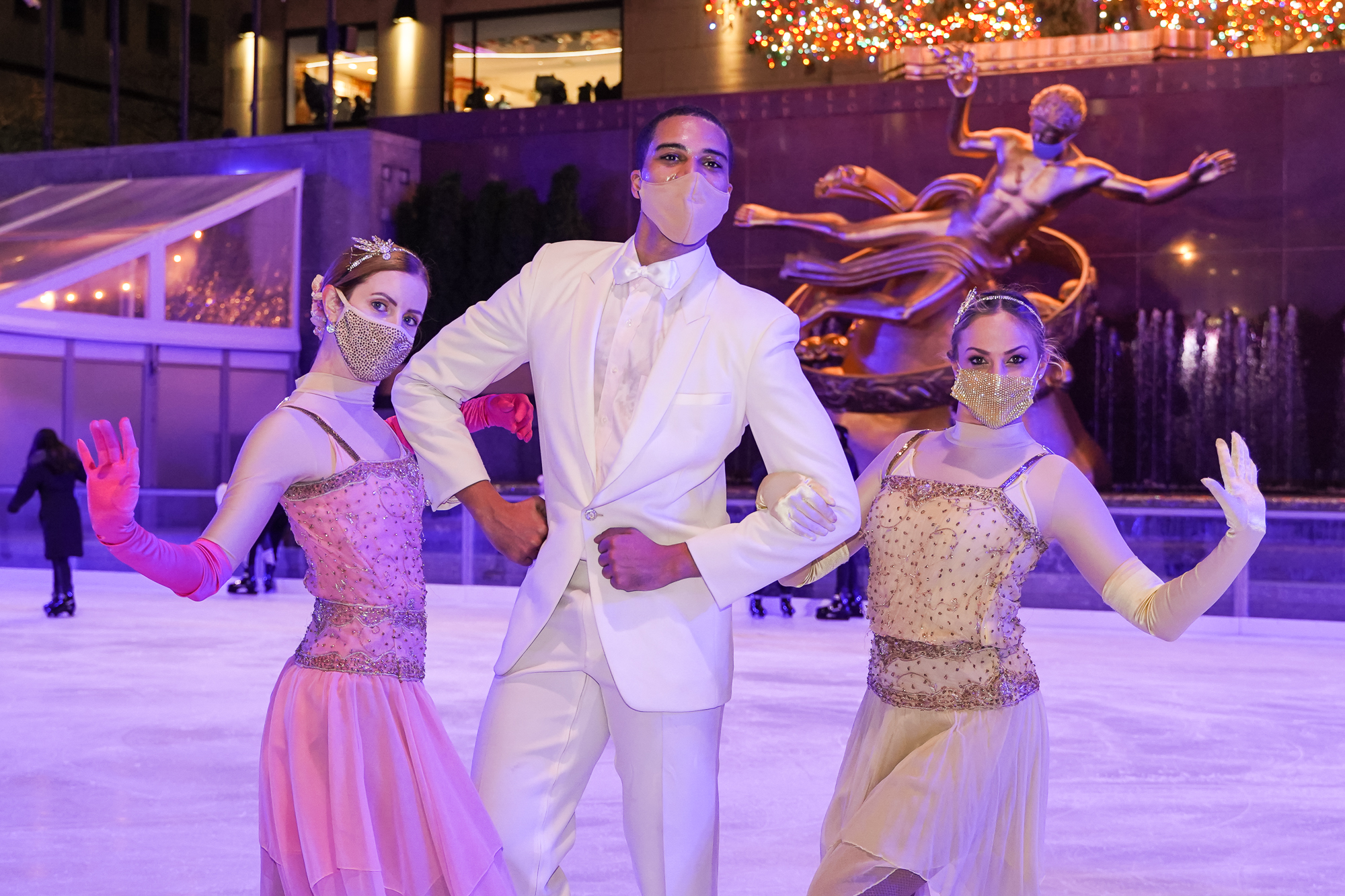 For its City Skate Concert Series, on Sunday, January 10, 2021, ITNY provided a series of 5 pop-up performances at Rockefeller Center Rink. Two pieces were performed at each concert. ITNY ensemble members reprised solos from our repertory: Armen Agaian in "Take Five", Sarah France's "I Will Fall For You", and Aaron Singletary in "Fragile". Sarah France also premiered a new piece "Winter Bird". Two young apprentices also performed. Attendance 2500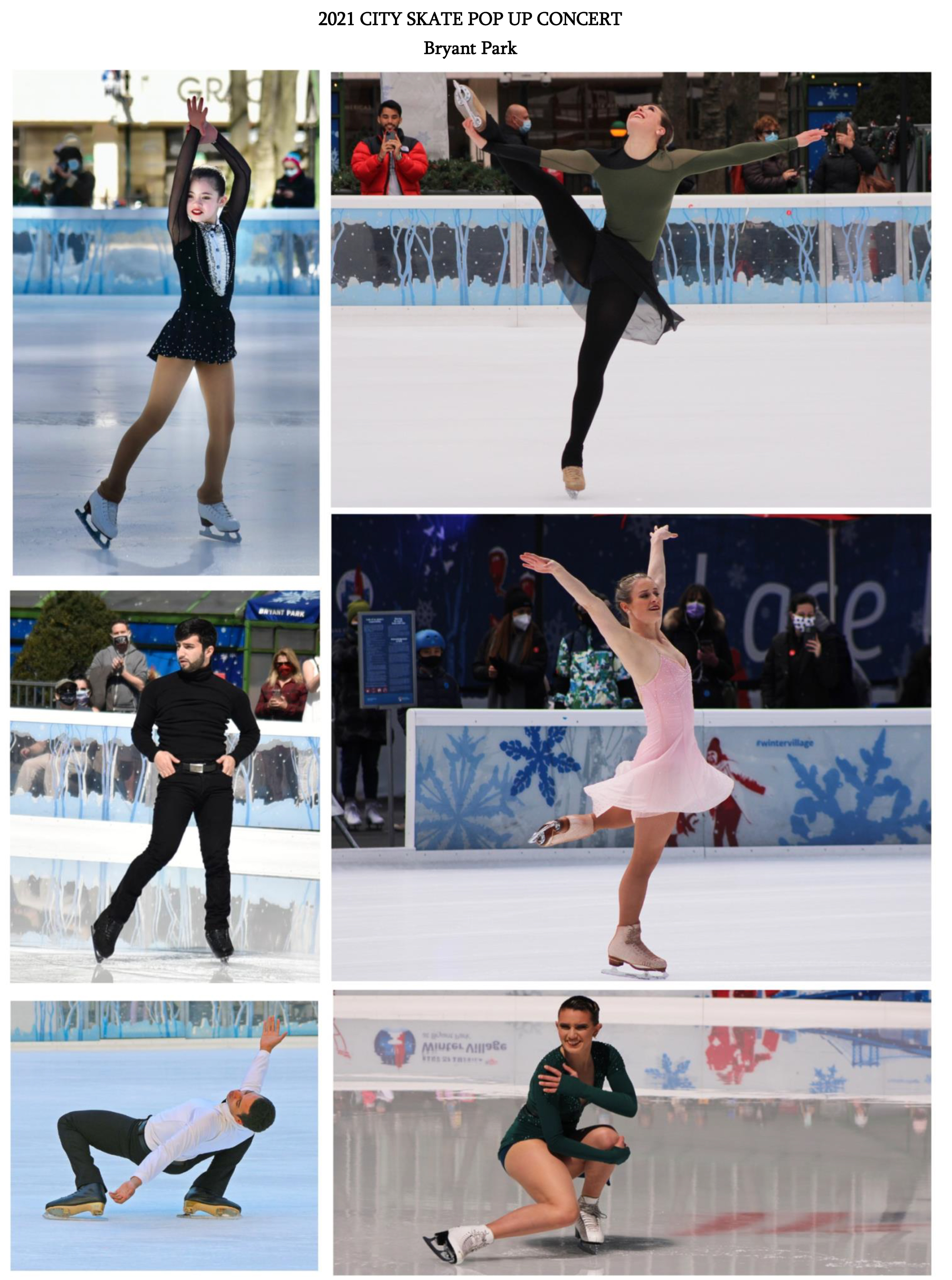 Following the closing of Rockefeller Rink we continued "Pop-Up" concerts at the Winter Village at Bryant Park. Two to three artists performed at each concert. They included one premiere and ensemble members reprising repertory work, as well as 4 young apprentices. Dates: 2/25, 3/02, 3/04, 3/09, 3/16, 3/23, 3/24 and 3/25/202. The events received wide publicity and the venue live-streamed each of the concerts on its Instagram feed. Our February concert was in honor of Black History Month and featured Aaron Singletary (a skater of color) performing "Fragile" and Sally Jeanne Watkins performing O Mio Babbino Caro, both choreographed by Douglas Webster. The March concerts featured Kate Gauthier in a new solo "Trace" with choreography by Joel Dear; Armen Agaian in "Take Five;" Sally Jeanne Watkins in "O Mio Babbino Caro;" Aaron Singletary in "Fragile;" Sarah France in "I Will Fall For You" along with several apprentices including 2021 Junior Ice Dance Silver Medalists, Oona and Gage Brown.
Beginning July 1, 2020 ITNY worked at our studio in Brooklyn to create new aerial and ice choreography projects on our Polyglide synthetic ice surface. We filmed this work for streaming use and recording before transferring the choreography to real ice. Over many weeks, we created "Shadow" performed by Sarah France, to music by pioneering electronic music composer, Laurie Spiegel. Shadow was videotaped Sept. 26 and edited in following weeks. Aaron Singletary, Sarah France and Angela Kim continued to work at the studio on our Polyglide surface - both aerial and non-aerial work. ITNY offered its apprentices, the brother-and-sister team of Oona and Gage Brown, the opportunity to practice on the synthetic ice to continue their training while ice rinks were closed.
We created "Black Lives Matter On and Off the Ice" testimonial posts (shared via email, our website and social media) featuring Alicia Hall Moran, Atoy Wilson, Theron James, Deneane Richburg, and Alyssa Stith, profiling their past performances with us along with their personal testimonials about the issues of racism in our World. Artistic advisory council member, Atoy Wilson, the first African American National ice skating medalist, advised on this ongoing series. We also profiled Tai Babilonia, Olympian and National Champion, who gave tribute to Black skating pioneer, Mabel Fairbanks.
In August and September, we taped two additional videos: a compilation of what our skaters were doing off-ice under the Covid skating restrictions, and a video of our Junior Ensemble taking off-ice classes with their teacher, Sarah France. These videos were subsequently streamed for our constituents, as well as the video of "Taking Flight" with Angela Kim, which had previously been taped.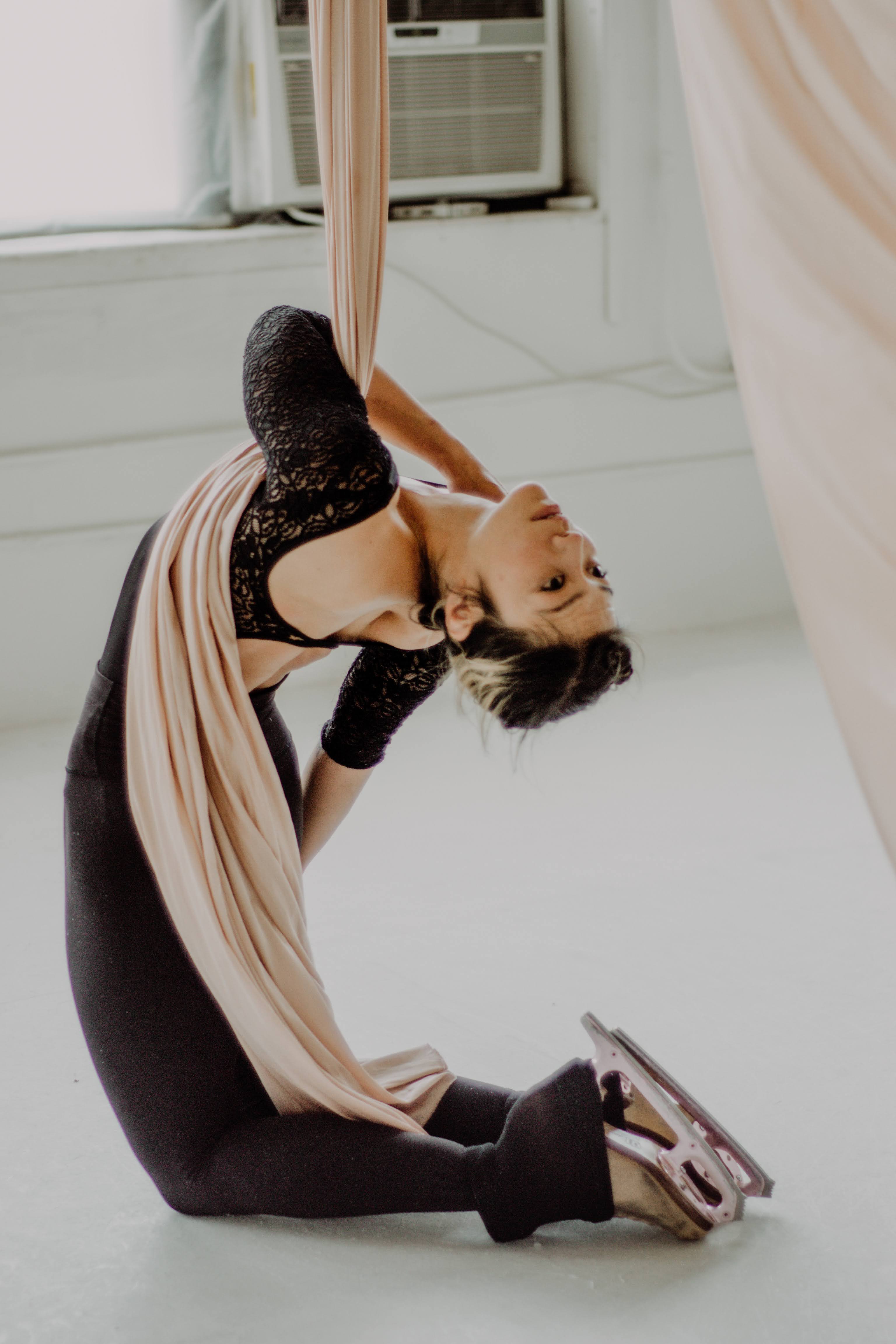 On August 20th, we were filmed outdoors on Pier 3 at Brooklyn Bridge Park. There were six short videos created to accompany an article about ITNY by dance critic, Gia Kourlas —"Trading the Ice for New York City Pavement," appearing in the Sunday NY Times on September 11, 2020. See https://tinyurl.com/y6oeuk82 Performing artists were Sarah France, Jennifer Gruver, Jessica Huot and Sally Jean Watkins, as well as freestyle performer Edison Lai.
On May 6, 2021, ITNY presented a free 45-minute streaming broadcast "Pivoting Through The Pandemic." The event was hosted by skating champion Jason Brown and featured presentations and performances by ice artists Kaitlyn Weaver, Elladj Balde and Adam Rippon. The company presented two premieres: "Pivoting," an ensemble piece for six ladies who remained socially distanced. Moira North conceived and Joel Dear choreographed "Pivoting," reflecting on how we all have had to pivot during COVID and incorporating a basic technical ice skating move "the pivot" with many variations on that term. The second premiere was an ice dance solo by Kaitlyn Weaver, "I Feel The Earth Move," to music by Carly Simon. We engaged videographer Jordan Cowan of On Ice Perspectives to record both pieces – he skates along with the artists and gives the viewer the feeling of being on the ice with the performers. The broadcast also featured a history segment, a profile of our outreach programming for NYC public school children, the aerial and ice videos performed at our Brooklyn studio, as well as a compilation video of how our performers stayed in shape and balanced during Covid. Attendance: 471 unique live viewers, plus subsequent 300 views online Following the broadcast, we presented a Zoom discussion with the artists, hosted by our trustee and renowned skating coach Douglas Haw. 80 people attended (donation based), including luminaries from the ice and dance worlds. Originally planned for 45 minutes, the Q&A went on for almost two hours due to the enthusiastic participation!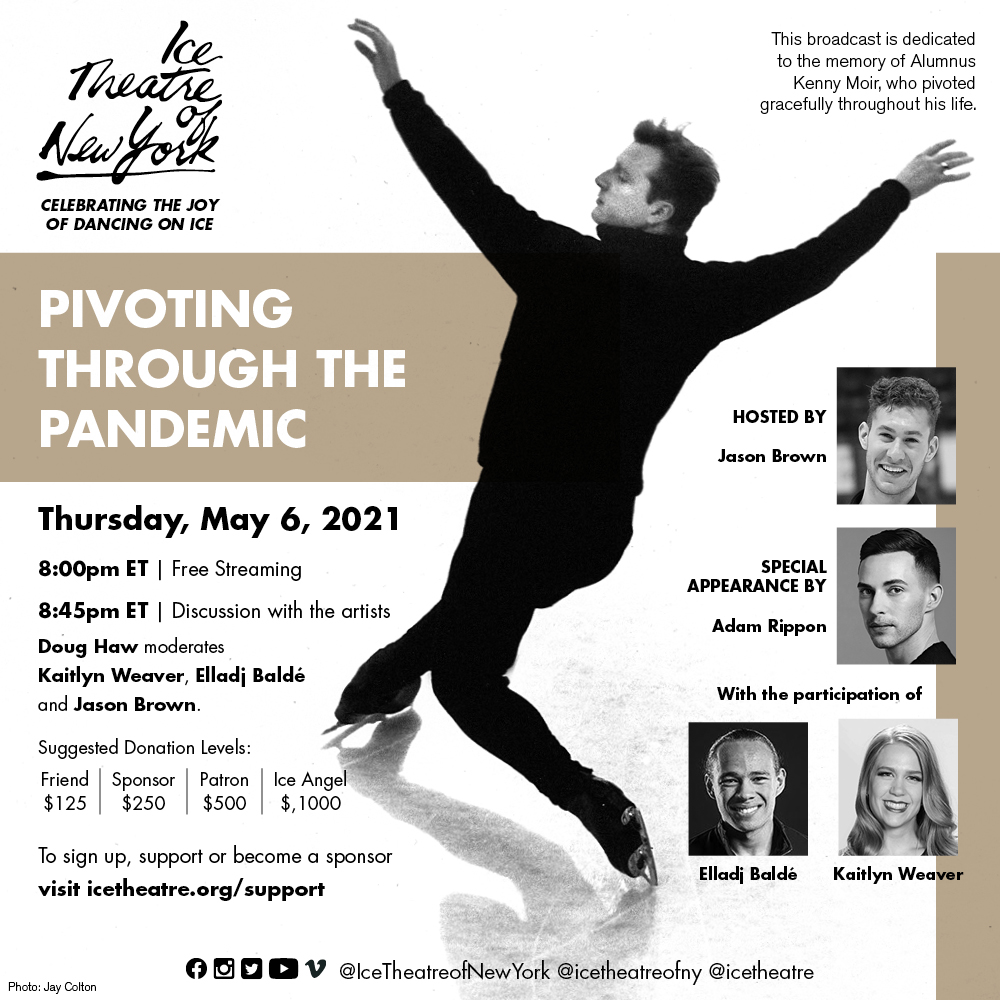 Here are just a couple of the many testimonials that came to us in the following days:
"Wow! Kudos to you on a beautiful presentation! Really one of the best virtual galas I've seen! …I didn't want to miss the chance to congratulate you on a beautiful presentation." Olympic pair skater, JoJo Starbuck
"Thank you so, so much for the kind invitation for your show. It was truly fabulous. And the after show party was so much fun! I stayed until the end I was enjoying it so much." Susan D. Russell, Publisher of International Figure Skating Magazine
"It was a great event… Kaitlyn, Elladj and Jason were so impressive. They are great ambassadors/spokespersons for their sport in these turbulent times. Also really interesting is how they see the sport/art changing and being more diverse and inclusive. Love what you are doing with the public school children. It is important and I believe Arts matter… providing essential skills, creative thinking, perseverance, teamwork, self discipline and not to mention the freedom to dream." Michael Blankman, new fan of ITNY
Master Edge Class: From mid-January through May 2021 (18 occurrences), ITNY gave a series of edge classes for skaters of all ages by Ensemble Director, Elisa Angeli, company member Sarah France and choreographer, Lorna Brown. These classes were presented on Zoom (with simultaneous streaming on Instagram and subsequent posting on Vimeo, YouTube and our website). Total virtual attendance 173,405
ITNY also sponsored teachers for the Riverbank Skating Club in Harlem for 18 90-minute sessions. These classes were for children aged 8 to 15 and took place outdoors at Riverbank State Park. Three teachers participated from November 2020 to March 11, 2021. Teacher/skater Aaron Singletary also performed "Fragile" for the students on February 25th in honor of Black History Month. On March 4, 2021, the students had the opportunity to meet Singer & ITNY Collaborator, Alicia Hall Moran. Attendance: 20 unique participants.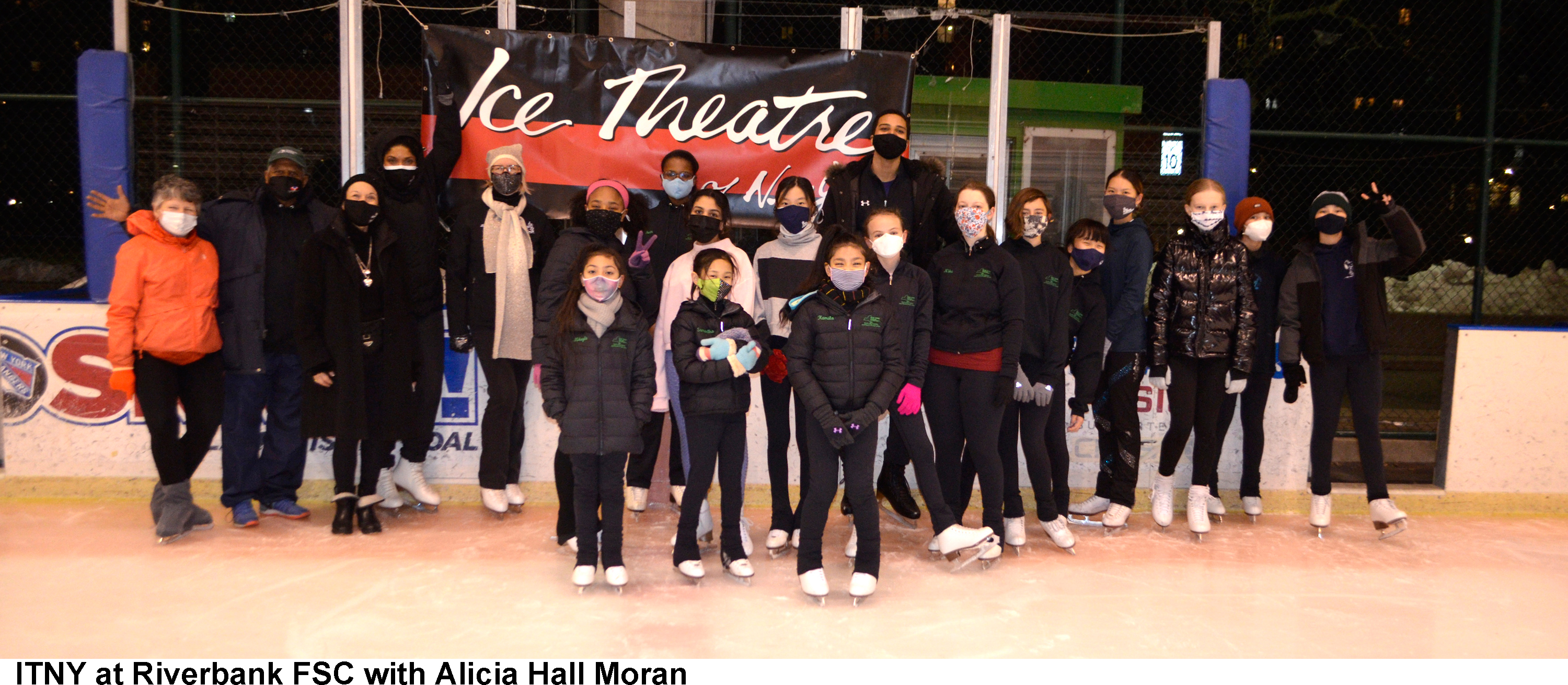 New Works and Young Artists Series
We held 5 virtual sessions of our educational outreach programming for NYC public school students on 3/11, 3/18, 3/25, 4/8 and 4/15.2021. The sessions ran from 10:30 A.M. to 12:30 P.M. Our teachers began by introducing the students to the art and sport of figure skating followed by a 15-minute video of dancing on ice by our professionals, with particular emphasis on showing a variety of our dances and diverse performers. It included a variety of performances from our repertory, exposing the children to many different forms of performance and types of music. Following this presentation, each class was separated into smaller interactive rooms with a designated teacher. (Five to six teachers per session as needed). The students received basic skating, off-ice preparation instructions, and tried out these moves in their classrooms or their own homes. The teachers provided feedback and answered many questions from the students and their teachers. We reached out to all regularly participating schools and added special outreach to schools in the outer boroughs. Those schools were previously prevented from attending in person because of distance to the rink where the live programming takes place. Students from Staten Island and the outer parts of Queens were delighted to discover our programming. Participants came from City Council Districts: 50 - Steve Mateo, 44 - Kalman Yeger, 7 - Mark Levine, 38 - Carlos Menchaca, 10 - Ydanis Rodriguez, 26 - Jimmy Van Bramer, 23 - Barry Grodenchik, 27 - I. Daneek Miller Attendance 800