2021 Year-end Appeal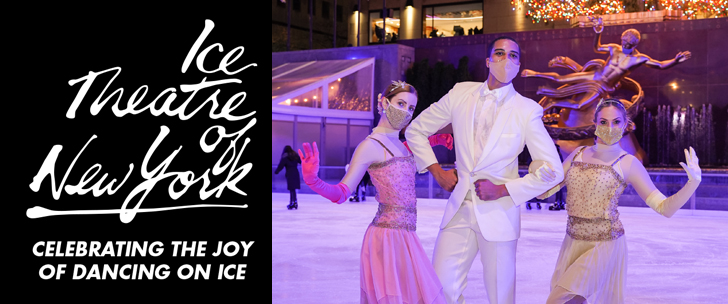 Dear Friend of Ice Theatre of New York,


It's hard to imagine how we could exist as a non-profit artistic ice dance company were it not for your support! We hope you will sustain us with a year-end donation. Your generous good will helps continue the creative spark, the dedication and artistry that take the joy and beauty of dancing on ice to diverse audiences.
Through this second challenging year, ITNY has continued to create, educate and spread the joy of dancing on ice by:

Virtual outreach programming for NYC public-school children

Citywide

Spring and Fall Pop-Up Concerts at the NYC outdoor rinks.

Bringing our Edge Class back to the ice at Sky Rink and City Ice Pavilion


Commissioning two new pieces for the Company:

Producing a streaming broadcast Pivoting Through The Pandemic, hosted by Jason Brown and featuring Elladj Baldé, Adam Rippon and Kaitlyn Weaver.

Development of a new Junior Ensemble piece by Milly Wasserman

Performing at the celebration of life of our Alumnus Kenny Moir at Sky Rink

Opening of The Rink at Rockefeller Center for a week-long branding launch for Chanel.

Annual Winter Holiday Skating Celebration at Denny Farrell Riverbank State Park.

Providing joyful characters for Rockefeller Center

Upcoming Projects:
We have been awarded two prestigious grants from the New York State Council on the Arts in support of commissions for works from dance artists to be created on our dancer/skaters.


LaJuné McMillian will conjure The Unseen a real-time motion capture performance on ice showcasing, celebrating, and honoring Black figure skaters of the past and present. ITNY is excited to collaborate with a visionary artist with a skating background for its first new media project.

Jody Sperling will create a new ice-dance choreography set to DJ Spooky's music Of Water and Ice this coming Spring. This work will explore the dynamics of our relationship to the vanishing polar icescapes.



We will continue our City Skate Pop-Up performances at the seasonal rinks through March 2022.


On May 6, 7 and 9 ITNY will present its Home Season Performances at Sky Rink and the 35th Anniversary Benefit Gala will take place on May 9, 2022 at The Lighthouse, Chelsea Piers.

We remain committed to supporting our company of ice dancers and choreographers and we hope to continue our outreach program for New York City public school children next spring. We could not do this without you.... Thank you for your sustaining support!

Warmest Wishes for a Happy, Healthy Holiday Season,

Moira and Company

Click here to support. Thank you!